John Ericsson (1803-1889)
(an archived copy to a dead link http://www.argonet.co.uk/users/bobsier/pion4.html)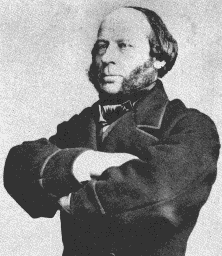 John Ericsson was born in Vermland, Sweden. In 1826 he arrived in England with a working model engine which he called his Flame Engine. This seems to have been an open cycle engine with internal combustion which worked well enough using resinous wood but soon burnt out when used with English coal, which gave out a more intense heat. The project was abandoned.

Ericsson built a more successful engine which worked on a closed cycle with external heating. He demonstrated a working model in London in 1833, this he called his Caloric Engine. Ericsson rated this machine at 5 bhp. He used two double acting cylinders of 14 inches (the hot cylinder) and 10 1/4 inches in diameter (the cold cylinder).

A tubular heat exchanger was used to give a form of regeneration.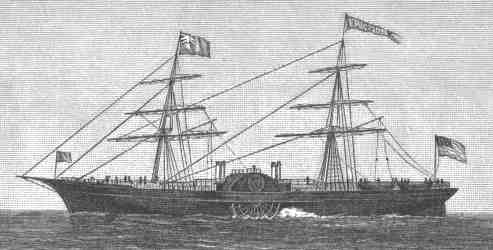 Although Ericsson claimed priority of invention for this form of regeneration it was in fact patented by Robert Stirling in 1816.
This experiment was not the success Ericsson had hoped for. He confined his interest to steam until 1838 when a 24 hp experimental engine with a wire gauze regenerator was constructed. This machine was not perfected since Ericsson left England for America the following year.
Ericsson settled in New York where he built, between 1840 to 1850, eight experimental engines using wire gauze regenerators. These engines worked on an open cycle with external heating and using two pistons of unequal diameters.

In 1851 Ericsson persuaded his financial backers to build the Caloric Ship Ericsson. A 260 foot paddle ship powered by a four cylinder caloric engine. Each cylinder was 168 inches in diameter with a 6 foot stoke. The ship was not a success, and unfortunately for Ericsson it sank in storm off New York. On being raised the Ericsson was fitted with steam engines. These steam engines were later removed and the ship continued in service as a sailing vessel until 1898 when it was driven ashore in a storm, off the west coast of Canada.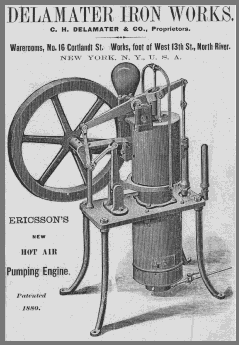 Ericsson was not discouraged by the failure of the caloric shipand patented a number of improvements during the years 1855-1858. These experiments cumulatated with his improved Caloric Engine an open cycle machine using a power piston and a supply piston, fitted with valves. This engine proved an immediate success with over 3000 being sold with in three years. This machine was sold in sizes of 8 inches to 32 inch cylinder diameters.
John Ericsson became interested in Solar power. Finding that his small caloric engine was not suitable on account of the valves he developed, around 1872, a displacer type (or Stirling) engine to work with a parabolic reflector; intended for use in the sun-burnt lands of the pacific coast for irrigation purposes. The engine was not taken up for use as a solar powered machine however, but his business backers persuaded him to patent the design, in 1880, as a pumping engine, heated by coal wood or gas. The engine was first built by the Delameter Iron Works and later by the Rider-Ericsson Engine Co. in sizes 5 inch to 12 inch cylinder diameter.
This was to be the last air engine developed by John Ericsson.
---
Links
His bio, including a discussion of the invention of the Monitor
How an Ericsson pump works
Bibliography:
The following books give technical information relating to Ericssons inventions:
Contributions to the Centennial Exhibition
John Ericsson
New York, 1876.
(Reprinted in 1976 by the Royal Swedish Academy of Engineering Sciences, Stockholm).
A Lecture on the late improvements in Steam Navigation and The Arts of Navel Warefare
with a brief notice of Ericssons Caloric Engine.
John. O. Sargent
New York. 1844
The life of John Ericsson
William C Church
New York. 1891.
John Ericsson and the Age of Caloric
Eugene S Ferguson
Washington. 1961.
John Ericsson. Mannen och uppfinnaren
Carola Goldkuht
Stockholm. 1961.
U.S.S Monitor. The Ship That Launched A Modern Navy
Edward M Miller
Annapolis, 1978
ISBN 0-915268-10-8
The following books are non technical biographies:
The miner boy and his Monitor, or the career and achivements of John Ericsson the engineer.
P C Headley
New York 1865
Yankee from Sweden
Ruth White
New York. 1960.
Captain John Ericsson: Father of the Moniter
Constance Buel Burnett
New York, 1960
(This book was written for young people)
John Ericsson and The Inventions of War
Ann Brophy
1991
ISBN 0-382-09943-5
(Silver Burdett Press: History of the Civil War series, juvenile literature)
Man of the Monitor.
Jean Lee Latham.
Published New York 1962.

Other published material relating to the life of John Ericsson :
E. V. White. The First Iron-Clad Navel Engagement in the world.
Published in 1908.
John Ericsson. United States Congress Proceedings of the Unveiling of the Statue of John Ericsson in Potomac Park, Washington, D.C.
Published in Washington, 1929.